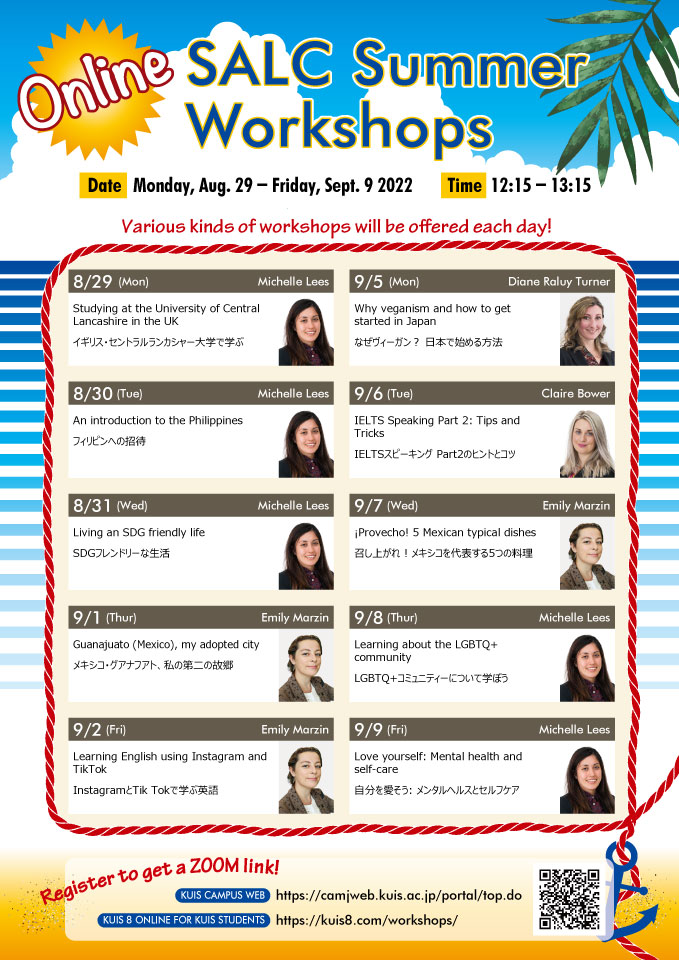 Summer Workshops
Different topics of workshops will be offered each day!
Date:

Monday, August 29 – Friday, September 9

Time:

12:15-13:15

Place:

Zoom

Please register to get the ZOOM link!

Reservations are accepted up to 12 hours in advance.
If you wish to cancel the reservation on the day, please contact the SALC.
Please check the schedule and descriptions below.↓
Date
Teacher
Workshop
Summer Workshop 1

8/29(Mon)

Michelle Lees

Studying at the University of Central Lancashire in the UK

Are you thinking about doing a study abroad program or exchange at the University of Central Lancashire in the UK? Do you have things you really want to ask from someone who has studied and lived there? I am a graduate of the university and would love to share my experience and tips with you!

イギリス・セントラルランカシャー大学で学ぶ

イギリス、セントラルランカシャー大学への留学に興味はありますか?実際に体験した人に質問したいことはありませんか?卒業生である私が体験談とポイントをお伝えします!

Summer Workshop 2

8/30(Tue)

Michelle Lees

An introduction to the Philippines

Have you ever thought of traveling to or studying in the Philippines? You should! This incredible country has one of the highest proficiency rates of English in the world, has incredible food, stunning nature and is home to some of the friendliest people in the world!

フィリピンへの招待

フィリピンへ留学や旅行で行きたいと思いますか?是非オススメします!この素晴らしい国は世界でも高い英語習熟率を誇り、美味しい食べ物、魅力的な自然と世界でも有数のフレンドリーな人々がいるところです。

Summer Workshop 3

8/31(Wed)

Michelle Lees

Living an SDG friendly life

Have you learned about the SDGs or heard of sustainable lifestyles and wondered how you can take steps toward living a more SDG friendly life? Small changes can have big results so let's come together to share our experiences and ideas on living a more sustainable and earth-friendly life. In this workshop, it is a chance to discuss and explore how we can make changes which are long reaching, how we can promote bigger changes, and how our actions have more power than we think.

SDGフレンドリーな生活

SDGsについて学んだり、サステナブルな暮らしについて聞いて、SDGのためにどう1歩を踏み出せばよいか悩んだことはありませんか?小さな変化は大きな結果をもたらします!ぜひ一緒にサステナブルでエコな暮らしのためのアイディアや経験をシェアしましょう。このワークショップでは変化を長期的にもたらす方法、より大きな変化を促す方法、そして私達の行動が想像以上に持つ大きな力について話し合い、発見する機会となります。

Summer Workshop 4

9/1(Thu)

Emily Marzin

Guanajuato (Mexico), my adopted city

Get to know more about the cultural, colonial and student city of Guanajuato. Situated in the center of Mexico, this vibrant city welcomed me 12 years ago and I can't wait to share what I most like about this place with you. In this workshop, you will learn about sightseeing and what Mexican students do for fun! ¡Vámonos!

メキシコ・グアナフアト、私の第二の故郷

文化的でコロニアルな、そして学生の街であるグアナファトについて知りましょう。メキシコ中心部に位置する活気溢れるこの街は、12年前私を迎え入れてくれました。そんな街のお気に入りポイントをみなさんに紹介します!ワークショップでは観光とメキシコの学生の日常を紹介します。Let's go!

Summer Workshop 5

9/2(Fri)

Emily Marzin

Learning English using Instagram and TikTok

Do you have an Instagram or TikTok account? Do you know that you can learn and practice the language you are learning using the content found on those platforms? The opportunities are endless giving users the freedom to express themselves creatively and discover linguistic and cultural content, from all parts of the world.

InstagramとTik Tokで学ぶ英語

InstagramやTikTokアカウントは持っていますか?それぞれのプラットフォームで言語学習ができるのを知っていましたか?InstagramやTikTokにはユーザーが自由にクリエイティブに表現したり、世界中から言語や文化を発見する機会が無限にあります!

Summer Workshop 6

9/5(Mon)

Diane Raluy Turner

Why veganism and how to get started in Japan

There's more to veganism than just a healthy diet. Come find out how veganism helps both the animals and the environment. You will also get some tips on where to find vegan food in Japan and essential ingredients to get you started.

なぜヴィーガン? 日本で始める方法

ヴィーガンは単に健康的な食事であるだけではありません。ワークショップに参加して、ヴィーガンがどのように動物や環境を支えるのか学びませんか。日本でヴィーガンフードを探すコツやヴィーガンを始めるために必要なポイントをお伝えします。

Summer Workshop 7

9/6(Tue)

Claire Bower

IELTS Speaking Part 2: Tips and Tricks

For many students, Part 2 is the most challenging section of the IELTS test. Talking for two minutes under test conditions is definitely scary! This workshop will give you some advice on how to approach it to make it less stressful, as well as a chance to practice and ask questions.

IELTSスピーキング Part2のヒントとコツ

IELTS Part2はテストの中でも難しいパートです。緊張の中2分間話すことは不安なはず。ワークショップでは緊張を和らげる方法をお伝し、練習と質問の機会を設けます。

Summer Workshop 8

9/7(Wed)

Emily Marzin

¡Provecho! 5 Mexican typical dishes

Have you ever tasted Mexican food? Join us to know more about 5 typical dishes of the Mexican gastronomy. We will the recipes and explain when those dishes are prepared. ¡A comer!

召し上がれ!メキシコを代表する5つの料理

メキシコ料理を食べたことはありますか?ワークショップに参加して5つの代表的なメキシコ美食を発見してみましょう。レシピとその料理がどんな時に食べられるかを紹介します。いただきます!

Summer Workshop 9

9/8(Thu)

Michelle Lees

Learning about the LGBTQ+ community

How much do you know about the LGBTQ+ community? Would you like the chance to learn more or ask questions? This will be a safe, open, welcoming rainbow space!

LGBTQ+コミュニティーについて学ぼう

LGBTQ+コミュニティーについてどれくらい知っていますか?もっと知りたい、質問をしてみたいと思ったことはありませんか?このワークショップは安全かつオープンで誰もが歓迎されるレインボーな場です!

Summer Workshop 10

9/9(Fri)

Michelle Lees

Love yourself: Mental health and self-care

Mental health awareness is growing around the world and more and more people are now talking about it which is fantastic! Come learn more about this topic, we'll cover some useful vocabulary, have discussions and I'll share some strategies and techniques for self-care. This will hopefully help you have a relaxing semester 2.

自分を愛そう: メンタルヘルスとセルフケア

メンタルヘルスへの関心が世界中で高まり、多くの人が話題にしていることは素晴らしいことです。ワークショップで役立つ単語を学び話し合いながら、このトピックについてもっと学びましょう。また、セルフケアの方法やテクニックも紹介します。みなさんがリラックスして後期を過ごすのに役立てれば幸いです。