Welcome How to Participate FAQs


Challenge yourself!
Do you want a fun way to get new opportunities for speaking?
Do you want to make opportunities to meet more people?
Do you want to increase your confidence for speaking?
Welcome to the Linguistic Risk-Taking Passport Initiative launched by the University of Ottawa in Canada, Kanda University of International Studies in Japan, and many other institutions around the world. This passport will help you discover new and creative ways to practise speaking English or other foreign languages, on and off-campus. We hope you enjoy this opportunity to make challenges for your language learning!
What is a linguistic risk?
A linguistic risk is an authentic, every-day communication task that some language learners may shy away from and may need special encouragement to engage in. Research has shown that some learners hesitate to take risks and do not always benefit from the extra opportunities to practise their second official language outside of the language classroom. Real-life communication in a second language is not stress-free. It may involve "risk factors" such as making mistakes, being misunderstood, misunderstanding others, taking on a different identity, changing language use habits, and so on. That is why some learners tend to stay within the comfort zone of their preferred official language when going about their daily business on campus and thus miss out on opportunities to "live" bilingually. The Linguistic Risk-Taking Initiative intends to encourage students to take various risks that will boost their confidence in their second official language. It will guide them in using the SALC as a real-life language-learning resource.
Adapted from the University of Ottawa webpage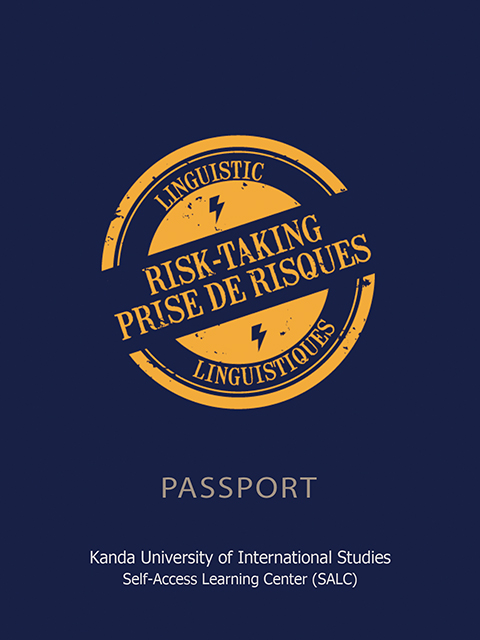 ---
Team members
The project is being coordinated by Neil Curry and Jo Mynard, but all learning advisors and many teachers are participating in this project. You can ask any SALC staff member for help or email salc@kanda.kuis.ac.jp
---
How to participate
It's simple and fun and open to any KUIS student: Linguistic Risk-Taking Passports will be handed out in some classes and will be available in the SALC. It is a project organised by learning advisors in the SALC. The passport can also be downloaded from this website. You can try many linguistic "risks" throughout the semester that will help you to build fluency and confidence. Towards the end of the semester, you can submit completed passports for a draw to win prizes.
Download the Risk-Taking Passport (PDF)
It's simple and fun!
Take as many risks as possible from the list included in the passport
Give yourself a check mark for each risk taken, after you have done the risk

Most risks can be repeated up to three times
Risks can be taken in any order you like;
You do not need to try all risks listed;
Each time you try a risk, show whether you thought the level of risk was High, Medium, or Low by adding the corresponding letter (H, M, or L) beside the checkbox.
If you have already done the risk before starting the passport, don't just check it, but please try it again. Think about how to make it more challenging this time.

Use the blank passport pages to plan additional risks if you want to
If you complete at least 20 risks (including repeated ones), we invite you to participate in our research.
You can submit the passport in the box at the SALC counter at the end of the semester. Make sure you use your KUIS email address
If you let us study your passport for research purposes, you will be entered into a prize draw to win an Amazon gift certificate.
---
Frequently Asked Questions (FAQs)